DISPENSARY OPENING TIMES
DISPENSARY OPENING TIMES
To order any medication requests over the phone you must call between 9am and 1pm.
The dispensary can be reached directly on 01538 704210.
We are accepting paper prescriptions.
All repeat prescriptions require three working days to process.
Collections are only available at the following times
| | | |
| --- | --- | --- |
| MONDAY | 11:00am - 1:00pm | 3:00pm - 5:45pm |
| TUESDAY | 11:00am - 1:00pm | 3:00pm - 5:45pm |
| WEDNESDAY | 11:00am - 1:00pm | 3:00pm - 5:45pm |
| THURSDAY | 11:00am - 1:00pm | CLOSED |
| FRIDAY | 11:00am - 1:00pm | 3:00pm - 5:45pm |
You can also order your medication through using online services or the NHS app, please speak to reception for more information.
Care Navigation
We are introducing an initiative to help people to find the most appropriate source of help when they call our practice or pop in to make an appointment. This means that our specially trained reception staff may ask questions about why appointments are required. You are not obliged to answer the questions they ask, however by doing so we can make sure that those people who really need to see a GP can see them as soon as possible.
Virtually everyone who calls to make an appointment asks to see a GP, but very often help will be available more quickly from other highly skilled medical professionals such as nurses or pharmacists, or from other services, including the voluntary sector, they can support people with a wide range of social, emotional or practical needs. Our trained reception staff will be able to offer you the most appropriate help using the range of information they have access to. If you have any questions, don't hesitate to speak to one of our Reception staff.
Cervical Screening
Two women die every day from cervical cancer in England. Yet it is one of the most preventable cancers and getting screened can help stop it before it starts.
Women and people with a cervix aged 25-64 are eligible for screening. You will be invited for routine screening every three years if you are aged 25-49, and every five years if you are aged 50-64. Those registered as male will need to request an appointment from their GP or a local sexual health clinic.
Encourage those you love to get screened if they are overdue a test. You can call the surgery to book an appointment or to discuss any concerns you may have with a member of our team.
_____________________________________________________________________________________________
Mission Statement
To put patients first offering a friendly supportive service
To deliver high quality, evidence based care and health promotion to our patients
To deliver a safe, effective and responsive service
To provide the right care by the right person to each patient
To support our staff to grow
For an overview of general information about the Surgery, please click the link to our practice leaflet below.
General Practice Data for Planning and Research
You may have heard in the media about a data collection programme being undertaken by NHS Digital. The General Practice Data for Planning and Research (GPDPR) is a more efficient and secure system of data collection which aims to support health and care planning and research.
Our practice will continue to share data with NHS Digital. If you would like more information on how and what data is shared head to the NHS Digital website. There is also information on this page for those wishing to opt out.
Due to increasing concern from patients and GP practices, data sharing with NHS Digital under the new directions has been paused, providing more time for patients to review the changes ahead of any future data collections.
COVID related letters & reports
COVID related letters/reports
We encourage anyone needing proof of COVID vaccination to call 119 or visit https://www.nhs.uk/conditions/coronavirus-covid-19/get-digital-covid-pass/
In exceptional circumstances the surgery will arrange for patient funded letters and or other documentation. These are not part of NHS services and as such are charged to the patient as follows:
Standard fee of £50
If required within 24 hours - £100
Any other written requirements will be charged at the GP partner's discretion.
Join Our Patient Group
The Aims of the Patient Participation Group
At its simplest, patient participation refers to patients, such as you, who are taking an active interest in health care.
It gives you, the local people, the opportunity to have a say in how services are planned, developed and evaluated, by developing a good working relationship with the practice staff and GPs. Our members get involved with the Clinical Commissioning Group (CCG); the CCG buy services for the population and influence health decisions.
The Patient Participation Group (PPG) provide important feedback to the Practice, encourage networking with other local service providers and engage healthcare professionals by invitation to meetings. We carry out surveys, seeking your opinion on changes you feel are required to improve services offered. You will be amongst the first to hear about news and updates.
Membership of the group is voluntary and involves attending monthly (the meeting room is supplied by the Practice). The frequency of the meetings may change as the Group progresses.
If you would like to become a member of the Group, please complete the PPG Application Form below and return to the practice.
Please see the Patient Participation tab at the top of the home page for more information.
Chair Based Exercise Classes - Cancelled until further notice due to the pandemic
Would you like to have a laugh and make new friends, combined with some easy chair based exercises to improve strengh and muscle balance?
Sessions at Alton Surgery on a Friday 1.30-2.30
If you are interested please speak to Debbie
Coffee Morning - will be restarting on the 2nd of August from 11:00 AM please join us at the surgery, everyone is welcome
Tell us about your experience
We want to hear from our patients at Alton Surgery. During these unusual times your feedback is incredibly important and will help us to better deliver care services to all our patients.
If you have any comments about the care you have received or feedback on any of our services please do let us know. You can leave a review over on the NHS website here.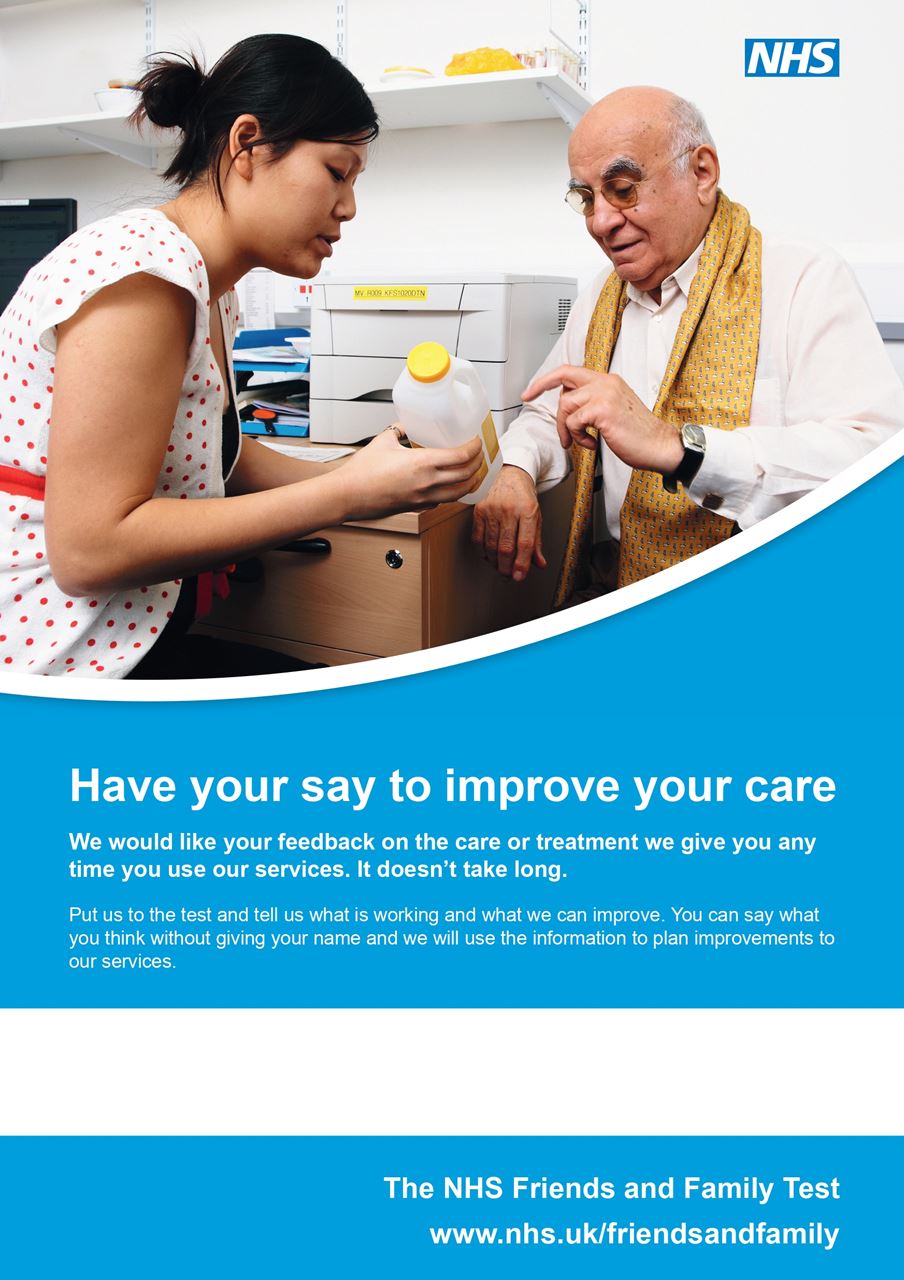 Self Care
Please don't forget there are many services available for you, depending on your condition. These include:
• Self-care – This is the best choice to treat minor illnesses and injuries such as hangovers, coughs, colds, grazes, small cuts or sore throats. Many of these can be treated at home, simply with over-the-counter medicines and plenty of rest.
• Pharmacy – Pharmacists can give advice on and treat a range of symptoms. They can support you with things such as diarrhoea, earaches, painful coughs, sticky eyes, teething and rashes. Please be aware that some of our pharmacies are also delivering the vaccination programme.
• NHS 111 – You can access 111 online or via the telephone. This is for any urgent but non-life threatening health concerns. They will be able to signpost you to the relevant service and provide advice where appropriate, or book you into a walk-in centre or minor injury unit
• A&E / 999 – You should only attend A&E or dial 999 in a life-threatening emergency such as severe bleeding, breathing difficulties and severe chest pain.
Feeling unwell? Tackle those symptoms as soon as they strike. No need for a GP appointment that you may not need. Staffordshire GP Dr Helen Stokes-Lampard explains more:
Did you know that your pharmacist can help with UTIs? They can offer advice on things like what can help you get better and what is the best painkiller to take. They'll also be able to tell you if you need to see a GP. Find more info here: https://www.nhs.uk/conditions/urinary-tract-infections-utis/
Having a well-stocked medicine cabinet will mean that you can fight minor illnesses.Talk to a pharmacist for more advice.
If your baby has Bronchiolitis, here is some helpful information to help you care for them at home. Parents who are concerned that symptoms are worsening should go to111.nhs.uk or download the NHS app